The only consolation for Birmingham City was that few teams are capable of containing Manchester City when they are in this mood. This was a formidable show of force and an emphatic way to underline how they are setting new standards at the top of the women's game in England.
More than 35,000 supporters bought tickets and while they saw a match between two teams who looked like they were playing different sports at times, there could be no doubt that they were given full value by a swaggering performance from City. The victory ensured they became the first English team to hold all three major trophies at the same time.
City won with something to spare, blowing Birmingham away with three goals in the space of 14 minutes in the first half and their rivals must wince at the thought of trying to close the gap on them. Any team that can play with such poise and skill when the stakes are this high deserves nothing but acclaim and any challenge from the chasing pack will have to be near perfection.
By the time Rebecca Welch's whistle brought an end to a brutally one-sided first half, Birmingham's players looked as though they wanted the turf to swallow them whole. They had lost control of the contest so quickly that there had barely been time for them to register what had taken place. It all happened in a blur from Birmingham's perspective and while the underdogs could not be faulted for a lack of effort, the unfortunate truth was that they looked hopelessly out of their depth against opponents of this class.
A record crowd for this fixture heightened the sense of occasion and the Birmingham supporters roared encouragement, especially when the pacy Freda Ayisi was on the ball and sought to trouble her markers in the City defence, but there was rarely any prospect of the favourites allowing self-doubt to cloud their vision.
City had the look of a team determined to make history from the first whistle. The Women's Super League champions and Continental Cup holders oozed authority in the way they passed and moved, with their attackers smoothly swapping positions and Birmingham soon found themselves chasing shadows.
The opening goal arrived after 18 minutes, Megan Campbell curling a free-kick from the right towards the near post. Kerys Harrop, Birmingham's captain, was outnumbered and there was little she could do to stop Lucy Bronze from looping a header over Ann-Katrin Berger.
Ayisi had threatened with an early shot from long range after a powerful surge into space, but City were utterly dominant. Seven minutes after scoring, Bronze beat two defenders on the right and clipped a cross into the area. City players were queuing up in the middle and Isobel Christiansen arrived to crash a rising side-footer past Berger, the ball flying past her before she could react properly.
City were rampant. Melissa Lawley raced clear on the left, forcing Berger to save, but there was no respite for Birmingham. The only surprise by that stage was that Carli Lloyd, the two-time Fifa World Player of the Year and world champion with the United States, was yet to make a meaningful impact, but that would change. When the increasingly overwhelmed Berger flapped at a high cross from the left, Lloyd headed into the empty net, sparking joyous celebrations.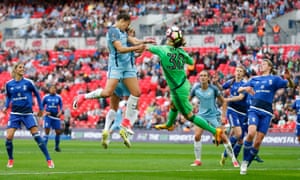 Birmingham were applauded off at half-time, but the game was surely over as a contest.
They could not be too aggrieved. There was no shame in being outplayed by superior opponents and when the pain of defeat has ebbed away Birmingham will reflect that they did well to make it this far, reaching the final thanks to victories over Arsenal and Chelsea.
They put up a good fight in the second half and deservedly pulled a goal back when Charlie Wellings, who replaced Ayisi, gave the scoreline a sheen of respectability with a shot that swerved away from Karen Bardsley and inside the right post, briefly giving Birmingham belief that they could stage an improbable comeback.
There were few moments of genuine concern for the team in the lighter shade of blue to endure: Ellen White was peripheral in her free role and it was galling for Birmingham that the second half mostly had the tempo of an exhibition. The early damage was too severe and City were professional enough not to allow themselves to become overly exposed, astutely electing to sit back and play on the break. They had chances to add further goals as Birmingham tired, only for Berger to muster some belated resistance.
It did not take long for Scott to restore City's three-goal advantage, brilliantly sidestepping Harrop before whipping the ball into the top-right corner.